Many authors are worried about how the devastating Coronavirus crisis will affect their book launch and promotion.  While there are certainly new challenges, here at BookSavvy we've also been seeing all sorts of new opportunities. And by finding creative ways to peg our media outreach into the news cycle, we're getting results that reach far above our expectations.
To uplift and inspire you we'll be sharing these throughout the times ahead.
Here's a great story to start with:
Barely two weeks after we started contacting the media about Carol Newman Cronin, whose latest book is Ferry to Cooperation Island, she had already done a bunch of on-air and print/online interviews.  
One to watch ASAP: her interview on ABC-TV Rhode Island!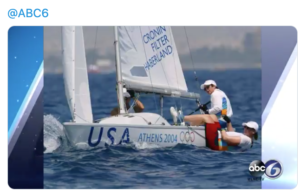 And there are dozens more opportunities percolating for her…
How'd that happen?  An Olympic sailor who competed in Athens in '04, Carol has plenty to say about the postponement of Tokyo 2020.  And Ferry to Cooperation Island speaks strongly to the redemptive power of neighborly cooperation—which resonates strongly in these times.
Digging deeply into the book and her background—and some creative thinking—helped us uncover these newsy nuggets.
This approach is working well for authors of a variety of backgrounds, from novelists to business writers.  And you don't have to be an Olympian! More on that in the days and weeks to come.
We hope this gives you a boost of optimism and inspiration.
More stories to come.
Write on!