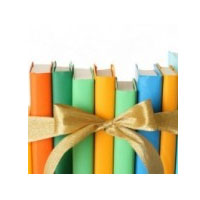 Marketing is about finding ways to tell people about your book so that they'll buy it, right?
Technically, yes. But in the unpredictable and often mysterious world of books, it turns out that one of the very best marketing tools, particularly à propos in this holiday season but equally valid year-round, is…giving.
Perhaps this is because unlike so many other products, books are social by nature. They spark ideas, memories, questions and conversations we want to share. They can trigger a whole gamut of emotions from wrath and disgust to adulation and joy, making readers want to reach out and connect, see who else felt the same way. And everything that's social has sharing — giving — at its heart.
For authors, this means thinking not in terms of what others can do for you ("Buy my book!" "Click on my link!" "Write a glowing review!") but in terms of what youcan do for the reading community. What hands-on advice or unique insight you can offer in articles, guest posts or on your own blog? What nugget of humor might help a peer through a bad day? Do you have an answer to a question weighing on somebody's mind? A contact a friend might find helpful? Offer it. Stay open to helping, no matter what the request is or who has made it.
A few other ways to give as an author are:
Share others' blog posts and book news on Facebook, Pinterest and Twitter.
Interview people on your blog. Invite them to write guest