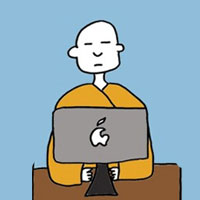 It's no secret that publishers do little these days to promote most books but that there's an infinite number of steps authors can take to fill the void, from DIY to hiring an outside publicist. Nor is it a secret that even the most exhaustive efforts can potentially get you….almost nowhere in terms of sales.
This may be why many authors opt not to do much promotion if any aside from what their publishers have planned (typically mailing out galleys and ARCs to reviewers) and to focus their energies instead on what they really love: writing.
That's a perfectly understandable and admirable choice. As agent Donald Maass wisely noted in a comment to one of my recent posts on Writer Unboxed, "The better bet [rather than spending too much time or money on promotion] is to write a killer Book #2."
In an ideal world that's what we'd all do. That world would be delightfully zen, free of the complications that come with drive, ambition and a desire for recognition. Free, too, from any need or desire to try to make a living from our craft. Our next book might be that killer or it might not; in the end its destiny is something we don't control. But it wouldn't matter and we'd be content to keep on writing.
In reality, though, most of us need or yearn for more. We certainly need to