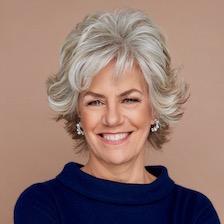 Author Category: Nonfiction/Business
Amy O'Rourke
Amy Cameron O'Rourke, is a dedicated care manager with a passion for helping people & their loved ones find peace and joy as they age. Amy is the author of The Fragile Years and founder of O'Rourke & Associates and The Cameron Group (sold in 2019, now Arosa). She believes our elder years can provide a beautiful opportunity for connection, meaning, and joy.
Amy has over 40 years of experience, including 20 years operating The Cameron Group (a care management company), as well as a Master's Degree in Public Health (MPH) and a Master's Certificate in Gerontology. She is a Licensed Nursing Home Administrator and Certified Care Manager (CMC).
In 2001, she received the National Entrepreneurial Achievement Award from American Express for her vision and innovation in senior healthcare. In 2011, she was named one of 15 "Women Who Mean Business" by the Orlando Business Journal. Her work has also been celebrated in Forbes, Orlando Sentinel, Consumer Reports, WVFT, Growing Bolder and more.
Books