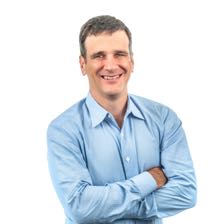 Author Category: Nonfiction/Business
Andy Fromm
Andy is Chairman and CEO of Service Management Group—a leading, global CX measurement firm that combines technology and insights to drive customer and employee loyalty for Fortune 500 companies.
Andy founded SMG in 1991 with Bill Fromm and Dr. Len Schlesinger. SMG's first client was a small retail chain, where Andy led a team conducting an employee survey. Throughout the company's history, SMG's associate and customer research has included an analysis of their relationship to financial performance.
This concept was the primary focus of Dr. Schlesinger's research at Harvard Business School and first articulated in 1998 in The Service Profit Chain with co-authors Heskett and Sasser. SMG's research was subsequently published in 2003 in The Value Profit Chain—the follow-up work from the same research group at Harvard.
Andy graduated with distinction from Boston University, and has served as an expert contributor in the area of customer service and satisfaction measurement to media such as the Wall Street Journal, USA Today, and Fast Company.
Books