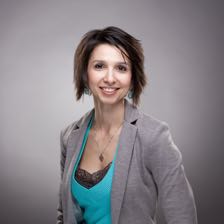 Author Category: Nonfiction/Business
Diana Kander
Diana is the New York Times Bestselling Author of All In Startup, a novel outlining lessons for launching successful products through the story of a struggling entrepreneur competing in the World Series of Poker.
Diana and her family escaped from the Soviet Union when she was 8-years-old. By the time she was an American citizen, she had perfected her skills as an entrepreneur—selling flea market goods to grade school classmates at a markup. Diana is a serial entrepreneur and former professor of entrepreneurship in the MBA program at the University of Missouri.
Today, Diana is the Director of Innovation Culture and Habits for Maddock Douglas, a Chicago-based innovation consulting firm. In this role, she trains executives and Fortune 1000 companies to be more innovative and to inspire employees to think more like entrepreneurs.
Diana lives in Kansas City, Missouri with her high school sweetheart and husband, Jason, and their awesome son, True. Fun fact: As research for this book, Diana did an 11.5-minute plank and tore her oblique muscle.
Books