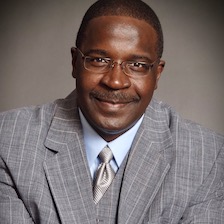 Author Category: Nonfiction/Business
Dr. Theron D. Williams
For more than 30 years, Dr. Theron D. Williams, author of The Bible is Black History series, has been the Pastor of the Mt. Carmel Church of Indianapolis, Indiana. While a student at Virginia Union University, Dr. Williams' was elected Pastor of the Angel Visit Baptist Church of Dunnsville, Virginia. During his brief pastorate there he moved the church from a part-time to a full-time church, which grew phenomenally under his leadership. In 1987 the people of Mt. Carmel Baptist Church, of Indianapolis called him to lead its congregation.
Under Dr. Williams' dynamic pastorate, Mt. Carmel has experienced an incredible transformation and exponential growth numerically, spiritually, organically and financially. Its membership has burgeoned from under 200 to more than 2,500. Dr. Williams led Mt. Carmel's transformation to a new, 25,000 square feet with every appropriate amenity and a plethora of community-enhancing endeavors including a private Christian school, 25 highly functioning ministries and a community development corporation responding to the serious issues facing Indianapolis' Far Eastside, where the church is located.
Dr. Williams earned a Bachelor of Arts in Psychology from Virginia Union University and a Master of Divinity degree from Virginia Union's Samuel DeWitt Proctor School of Theology. He received a Doctor of Ministry degree from The Chicago Theological Seminary.
The Bible is Black History series includes the titles The Bible is Black History, Great Women of the Bible; Young Heroes of the Bible; The Bible is Black History – Children's Edition and The Bible is Black History ABCs.
In addition, Dr. Williams—a father and a grandfather—is the author of A Practical Strategy for Retaining Church Members, Knowing the Peace of God, The Faith Challenge, and Becoming an Anointed Man of God. He has given dozens of talks across the country and in the Caribbean, and has been a guest on PBS' Black Culture Connection.
Books