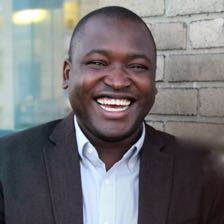 Author Category: Fiction/Memoir
Kennedy Odede
Kennedy Odede, one of Africa's best-known community organizers and social entrepreneurs, is the co-author with Jessica Posner Odede of the New York Times bestselling book Find Me Unafraid: Love, Loss and Hope in an African Slum. Founder and CEO of the nonprofit Shining Hope for Communities (SHOFCO) based in Kenya, he is a member of the Clinton Global Initiative and was awarded the 2010 Echoing Green Fellowship, which is given to the world's top emerging social entrepreneurs. He also won the 2010 Dell Social Innovation Competition and was named one of Forbes' 2014 30 Under 30: Social Entrepreneurs.
Kennedy speaks six languages, is a senior fellow with Humanity in Action, and an Aspen Institute New Voices Fellow.   His work has been featured in the PBS documentary Half the Sky, by Chelsea Clinton and Maria Menounos on NBC, by President Bill Clinton, and on multiple occasions by Nicholas Kristof in The New York Times.
Raised in Kibera, the largest urban slum in Africa, Kennedy experienced the devastating realities of life in extreme poverty. During Kenya's 2007 post-election crisis, Jessica, whom he'd met when she was working with him in as a study abroad student, urged Kennedy to apply to U.S. universities. When Kennedy joined Jessica at Wesleyan University, fulfilling his own dreams of an education, they co-founded Shining Hope for Communities in 2009.  Now married, the two split their time between Nairobi and New York.
SHOFCO combats extreme poverty and gender inequality by linking schools for girls to a set of high-value, holistic community services for all. In 2016 it will reach 100,000 people.
Books