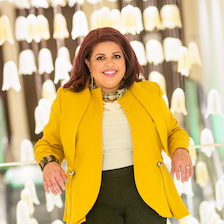 Author Category: Nonfiction/Business
Kristin Harper
Kristin Harper is the founder and CEO of Driven to Succeed, LLC, a leadership development company that provides keynotes and brand consulting for businesses, organizations, colleges, and high achieving individuals around the world. She is known for helping people accelerate their careers and building successful brands.
She has led teams to develop strategies, product innovation and brand- building marketing to increase sales, profit, and market share for iconic global brands including but not limited to Crest®, Oral-B®, Metamucil®, and Hershey's KISSES®.
Kristin received her bachelor's and MBA degrees from Florida A&M University (FAMU), and executive education from Harvard University.
She and her husband, also a FAMU graduate, are the proud parents of three children. In 2015, they accomplished a bucket-list goal by establishing a $25,000 endowed scholarship for FAMU business students.
Books