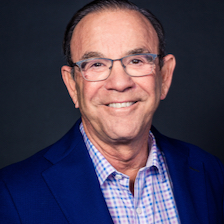 Author Category: Nonfiction/Business
Steven Myers
Steven Myers is a four-time CEO, public speaker, two-time US Air Force veteran, accomplished aviator, and best-selling author of Cross Winds: Adventure Entrepreneurship in the Russian Far East. 
In 1992, at the end of the Cold War, Steven Myers became the first American since Charles Lindbergh in 1931, to pilot an aircraft into the Russian Kamchatka peninsula. He holds an Airline Transport Pilot license with twelve jet type ratings, including the Boeing 777. With more than 6,200 hours of flight time, he received the FAA's highest civilian award in 2020, the Wright Brothers Master Pilot Award.  
Named Ernst & Young "Entrepreneur of the Year" for Software and Information Services, Myers founded SM&A, Inc., which grew into a NASDAQ-listed $110 million annual revenue international management consulting firm serving aerospace & defense, aviation, telecommunications, and other high-tech industry clients. After a very successful IPO in 1998, he served as Chairman and CEO for ten years before the company was sold to private equity in 2008. His private equity investment company, Dolphin Capital Holdings, Inc., has interests in a broad array of enterprises. He has conducted business in a dozen countries in Europe and Asia.  
Myers graduated from Stanford University with a BS in Mathematics. He and his wife, Vivian live in North Miami. He has four children and seven grandchildren.
Books